I have been blessed with amazing people in my life. People like my roommates, Kat and Allie, who try everything I make [even when they don't want to], people like my family who read my blog but don't ever get to try anything I make [since they are so far away], and people like my friend Michael, who brought me 10 pomegranates and a 2 pound bag of pecans yesterday! I am
swimming
in pomegranate juice and frolicking in pecans :]
After simply eating 2 pomegranates [and a handful of pecans], I finally decided what I would do with the rest. So here is the first post in a series of 4 [maybe 5] featuring
POMEGRANATES
.
This first feature is going to be a
Baked Custard
[remember our discussion on custards when we made
Spiced Pumpkin Creme Brulee
] I took the basic creme brulee recipe from before, and tweaked it to be a simple pomegranate custard baked inside of a cinnamon sweet dough and topped with a light and fluffy meringue. I think its a great way to incorporate fresh fruit and still feel like its the holidays with a little bit of the spice-y aspect to it.
First things first, we need to make the tart dough. It is a very simple and versatile dough that you can roll out and use for a tart dough or even sugar cookie cutouts to decorate, spice it any way you like!
Butter: 4 oz
Sugar: 8 oz
Egg: 1 ea.
Flour: 12 oz
Cinnamon: 2 Tbsp
1. Cream together the butter and sugar until light and fluffy [yes. i said "fluffy" Chef Haymon]
2. Add the egg and mix until incorporated
3. Add flour and cinnamon and mix until a dough forms- do not over mix!
You can wrap this dough and keep it in the fridge or freezer, and take it out and roll it whenever you please, or you can go straight into rolling it out right away! [which is what I did]
Roll your dough out about 1/4" thick and line your tart molds with it. You can make mini tartlets like I did, or make one big tart! it doesn't matter the shape, and you don't have to have a "tart" pan. You can use cupcake pans for mini tartlets, or just a regular cake pan to make a large tart. I am using small aluminum foil cups for these.
once the dough is in the pans...you are ready to make the filling....
Pomegranate Juice: 5 oz
Sugar: 1.5 oz
Egg yolks: 2ea
1. Boil all your juice with half of your sugar.
2. While that is coming to a boil, whisk together the eggs yolks and half sugar.
3. Once the liquid comes to a boil, quickly stream in the hot liquid into the yolks while you continue to whisk [DON'T STOP WHISKING!!]
4. Pour the finished liquid into the prepared pans and bake at 325 F for 25-30 minutes
Once the custard is finished baking, it will jiggle like jello when you shake the pan. Allow them to cool, and then refrigerate. While these are getting cold, we can make the meringue for the top!
Egg whites: 3 oz
Sugar: 6 oz
If you have never made meringue before, you can read below for the proper procedure, but if it seems daunting, follow these simple steps:
1. Bring a pot of water to a boil and set a boil on top of it. make sure the bowl does not touch the water.
2. Using a hand mixer, whip the egg whites and sugar in the bowl over the hot water until you create a stiff peak and it has more than doubles in volume!
Italian Meringue:
1. Cover sugar with water in a small pot and cook over high heat until you reach 240 F- TURN OFF HEAT!
2. Begin whipping your egg whites while the sugar is cooking. you want them to be foamy, but not to have whipped up completely yet.
3. Stream the hot sugar into the whipping egg whites. Once the sugar is all in, turn the mixer up to med-high and whip until it creates a stiff peak and more than doubles in volume.
Now you can finish the tarts. remove them from the oven, and cover with the meringue. You can do this by simply spreading the meringue on top with a spoon or knife, or you can pipe it on. There is no wrong way to do it! I chose to pipe my meringue on top with spiked peaks [which would be great if you decided to torch the meringue!!]
Just be careful that you don't go over board with the meringue. I personally LOVE meringue, so there is a tower of it atop my custard, but not everyone does... [crazy fools] :]
dough inside tart pans
Add the custard to the brim, and then bake!
Maybe you want a small dallop of meringue....
...or maybe you want A TON! :]
linked up at...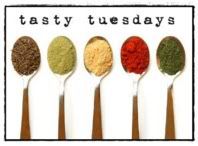 The Girl Creative
Sumos Sweet Stuff
Funky Polka Dot Giraffe